Tea is an important beverage which is drunk all over the world. India is a leading producer of tea in the world, so Indians are fond of tea and are connoisseurs. People who can judge the quality of tea can make Tea Taster as their career. It is a great opportunity for students who know about the essence and aroma of tea. They should have a love for this beverage to make a career in this field. It is not a useless profession but an important part of the Tea Management industry.
JOB AND RESPONSIBILITIES OF A TASTER
Tea tasting is an art and the job of the taster requires him to taste the teas and give advice regarding the various ways, tea can be brewed to get a particular taste.
After tasting they have to give their final feedback for a quality tea final product.
In a tea manufacturing company the tasters have to be vigilant during the production process, by looking at the size and colour of the leaves to find out whether they have been fermented or dried under fire and if anything is amiss they send the leaves back to the factory for rectification.
They coordinate with the tea gardens and look after their import and export.
They educate the company on the latest market trends.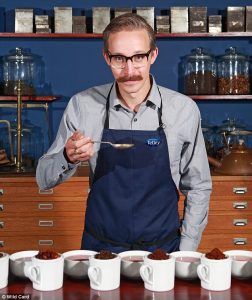 ELIGIBILITY
They have to be graduates in any of the following streams-
Agriculture
Horticulture
Biology
Home Science
Food Technology
SKILLS REQUIRED
Should have a sharp sense of smell and taste
Good knowledge of cultivation and manufacturing process of tea plantation
The person should know about the various types of tea, grades and characters of resulting liquids
The person should refrain from smoking, drinking alcohol and eating spicy food
Should have knowledge of the tea market and the current market trends
The person should have leadership skills, communication skills and decision making skills
Must have a keen eye for details
Should be a tea lover
EDUCATIONAL QUALIFICATIONS
No formal degree is required, only certificate courses are needed to understand the tea tasting techniques. The courses span from 3 months certificate course to 1 year diploma.
Institutes offering courses of Tea Taster
Department of Tea Husbandry and Technology-Assam Agricultural University
Dipras Institute Of Professional Studies- Kolkata
Darjeeling Tea Research And Management Association- Darjeeling
University of North Bengal, -Darjeeling
Birla Institute Of Management And Futuristic Studies- Kolkata
Indian Institute Of Plantation Management- Bangalore
SCOPE
They are employed in big tea companies to ensure quality standards
They are hired by manufacturing companies, brokers and buyers
They can coordinate with gardens and look after their import and export
Experienced tea tasters can give consultancy services  and offer advice regarding varieties of tea to be planted, new varieties, recruitment and training of personnel, compensation, benefits etc
SALARY
Salaries are good and even a trainee earns 5000/month. After completion of training, one can earn 20,000-30,000/ month. An experienced person can get 50,000 or more. Along with a good salary, other perks are also there. A Tea Taster gets a bungalow and car and can maintain a good lifestyle.
A career in this provides a good salary, travel opportunities and interaction with people all around the world.